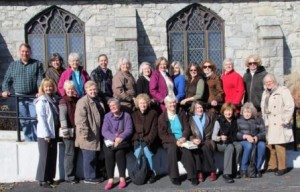 Keene Area American Association of University Women
Advancing Equity for Women and Girls through Advocacy, Education, Philanthropy and Research
We welcome members from all of western New Hampshire. Meetings of the Keene Branch are handicapped accessible. Most events are open to the public.  The Keene, NH, branch encompasses members from Peterborough to Hanover, Westmoreland to Alstead.
April and May Meetings:  Monday May 7 will be at 6:30 pm at the Keene Public Library (KPL) Auditorium (in the basement). Member Judy Kalich will present "A Turkey Travelogue." We look forward to seeing you there. Refreshments: Peg Barrett, Joyce Curll, Darcy Doyle, Kathy Halverson.
Carol has arranged for our May meeting on the 21st—our Spring Dinner—to take place at East Hill Farm in Troy. The meal includes soup, salad, fresh baked bread, fritters with maple syrup, two entrees served family style (baked stuffed chicken breast and baked macaroni and cheese with onions, peppers and sun-dried tomatoes), plus a homemade dessert with coffee, tea or milk—all for $27 which includes tax and gratuity. This is a time to enjoy each others company as we celebrate this past season's accomplishments!
Dues Reminder:
Dues are due! You can bring your form and your payment to one of the two meetings in May or to Book Group. Remember: National dues are going up $10 to $59 a year. Local dues are $15. Total dues for next year will therefore be $74 (plus whatever extra you may wish to contribute).